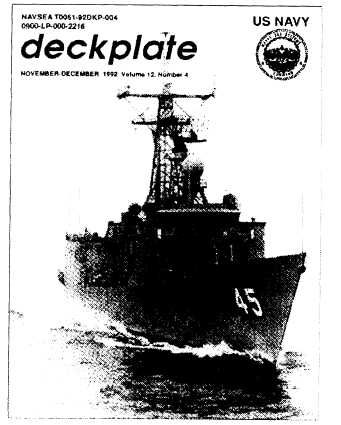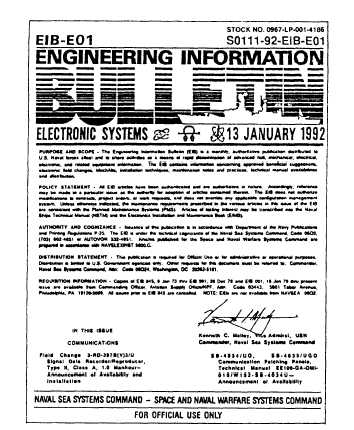 Figure 1-4.—Front cover of an EIB.
ENGINEERING INFORMATION
BULLETIN

(EIB)
The EIB is a monthly, authoritative publication
distributed to afloat and shore activities. It is a means of
rapid  dissemination  of  advanced  hull,  mechanical,
electrical,   electronic,   and   related   equipment
information. The EIB contains information concerning
Approved  beneficial  suggestions
Electronic  field  changes
Installation  techniques
Maintenance  notes  and  practices
Technical manual corrections, availabilities and
distribution.
Your ET shop should maintain a library of the EIBs
for electronic systems for ready reference. It should also
route all new EIBs to all personnel concerned with the
topics for information and action.
You   should   familiarize   yourself   with   the
information  contained  in  these  periodicals.  By  doing  so,
you will help keep yourself current with changes to
1-4
Figure 1-5.—Cover of  

deckplate

magazine
equipment  and  procedures.  Figure  1-4  is  an  illustration
of a front cover of an EIB.
DECKPLATE
Deckplate  

is published bimonthly and is a technical
periodical in magazine form. It is published by the Naval
Sea  Systems  Command  (NAVSEA)  and  contains
articles on design, construction, and repair of naval
vessels  and  their  equipment  and  other  technical
equipment and programs under NAVSEA command
The  content  of  

deckplate   is   

considered   as
information  intended  for  information  purposes  only.  Do
not
regard it as information that alters or supersedes
official regulations, orders, or directives. Figure 1-5
illustrates the front cover of

deckplate.
AIMS NEWSLETTER
The

AIMS NEWSLETTER

provides information to
shipboard technicians and operators of AIMS systems.
At present, it is printed only as needed. That is, when
information is obtained and compiled by the Naval